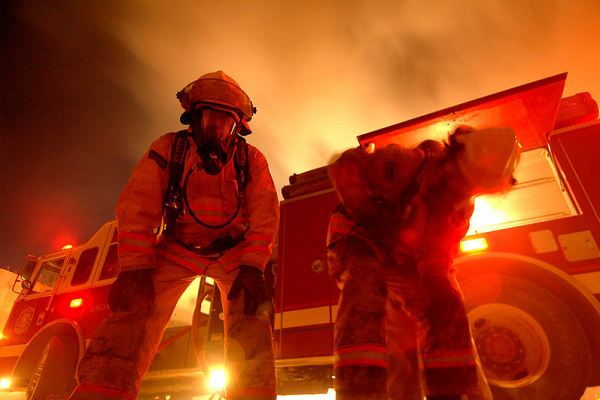 WSI Firefighter Wage Class Action
Scott Bloch filed this action for damages in the amount of $100 million to remedy the loss of pay and other damages to 2,000 firefighters in Iraq and Afghanistan who were wrongfully deprived of their pay for protecting our bases and troops in difficult conditions overseas.  They were subject to the same attacks and harsh circumstances as our troops, called out at all hours to fight fires and protect our service members but were not paid per their contract or the law.  The matter has resulted in a substantial award in the first phase for a limited number of individuals.
If you wish to sign up to join this important case, please go the the questionnaire so that attorneys can assess your case and get back to you.
PART II – More About This Landmark Case
If you wish to read more about this case, you can read the press release here that went out with the filing of the action.
This is a class action and as such it seeks to redress wrongs to a class of individuals who are similarly situated.  The decision of whether to grant class certification is an important stage of class action litigation and is subject to many factors and intense analysis.  Some of those factors are addressed in the Complaint filed in the case.  Read the Complaint here filed in the United States District Court for the District of Columbia.  The Amended Complaint for the Class phase can be seen here Complaint 2009 class WSI.  The class action phase has begun as of February 11, 2015.
Arbitration Award for Firefighters
The Matter went before JAMS arbitrator in several weeks of hearing in January of 2014.  On June 28, 2014, the Arbitrator found in favor of the claimant Firefighters for their claims of on call time (at least 8 hours per day) and claims for acting officer pay, over a series of years in which Wackenhut provided fire fighting services on multiple bases under a subcontract with KBR for the United States military in Iraq.  In addition, the Arbitrator found that Claimants may also pursue a class action for a remaining class of 400 plus fire fighters based on the findings of fact for the claimant/class representatives.  The class action phase for all Wackenhut firefighters in Iraq who were employed by WSI after February 1, 2009, or signed contracts after February 1, 2009, has started, and a final hearing will take place in the Fall of 2016.  Those who wish to be a part of it, assuming they qualify based on Arbitrator's Award, need to fill out a questionnaire and notify us right away.  ALL PERSONS MUST BE IDENTIFIED BEFORE JULY 1, 2016 TO BE ELIGIBLE.
Since that initial Award, there have been new proceedings to define who may be entitled to compensation for those with first time contracts on or after February 1, 2009.  These fall into two classes of potential compensation: (1) on call compensation for those with contracts that do not conform to a standard practice of Wackenhut to archive the employment agreements and attachments; and (2) acting officer compensation, i.e., compensation for those who were required by Wackenhut to perform duties normally paid at a higher officer rate, such as Lieutenant, Captain, assistant Chief, etc.  See attached arbitrator's notice to Firefighters: AA NOTICE to All FFs.
Individuals who signed contracts for the first time with Wackenhut dated after February 1, 2009, may wish to sign up below.
Filling out the questionnaire does not establish an attorney-client relationship.  Nothing herein is intended to provide legal advice.  Only if a person becomes a client of the law firm by signing a fee agreement will such a relationship be established.  Prior results do not guarantee future outcomes. Case results vary dramatically depending on specific facts and circumstances.  Examples of results in cases above do not guarantee any specific results in any other case.