Defense Base Act Class Action
Scott Bloch filed this action for damages in the amount of $2 Billion to remedy the injuries and destruction caused to the lives, finances and mental and physical well being of thousands of American families and Foreign Citizens whose loved ones were injured while serving America under contracts with the United States, and to punish the companies who made massive profits while causing this harm to people unlawfully and maliciously and working a fraud on the American public who paid them.  Scott Bloch has championed the cause of contractors working abroad, bringing several class actions like the DBA class against contracting companies and is trying to change the way the do business to prevent abuses to contractors.
He appeared internationally in the documentary "Fogotten Heroes" about the plight of contractors abroad who are injured and mistreated by the contracting companies and insurance companies.   If you wish to sign up to join this important case, please go the the questionnaire so that attorneys can assess your case and get back to you.
Learn More About This Landmark Case
If you wish to read more about this case, you can read the press release here PRESS RELEASE Complaint DBA Class that went out with the filing of the action.   Also you may read press coverage from Pro Publica reporter T Christian Miller here.  Read here the recent op ed by Scott Bloch on the Scandal of Mistreatment of these Silent Soldiers
This is a class action and as such it seeks to redress wrongs to a class of individuals who are similarly situated.  The decision of whether to grant class certification is an important stage of class action litigation and is subject to many factors and intense analysis.  Some of those factors are addressed in the Complaint file in the case.
Read the Complaint here First Amended Complaint_Brink et al v. Xe Holding LLC et al as filed filed in the United States District Court for the District of Columbia.  Read here as well the Briefs filed in opposition to the Motion to Dismiss filed by the Insurance Company Defendants here Response Memo 8 30 Support Ins Combined Brief – Final and the Contracting Company Defendants here Response Memo 8 30 Contractor Combined Brief – Final.  The U.S. District Court, Judge Emmet Sullivan, dismissed all claims.  This has been appealed.  See Appellant's appeal brief here:  BrinkDCCir.ApptsBrRe-CorrectedFiled.
The DC federal Circuit Court of appeals reversed the lower court in part and affirmed it in part, finding that a handful of cases could proceed, but that the abuses of the contractors and insurance companies could continue and nobody could sue for the misconduct of the companies in respect to benefits being administered.  Read Opinion150602.
Appeal Filed with U.S. Supreme Court
The lower court opinion has been appealed to the U.S. Supreme Court.  Read the Petition for Writ of Certiorari here As filed Cert Petition Brink et al. v Continental Ins et al.  In this Brief we argue that  the law is confusing on the question of what cases one may sue an employer or insurance carrier on when there is workers compensation insurance, that there is conflict among the circuits, and that courts even though they broadcast an "intentional tort" exception to the exclusive remedy doctrine of the DBA and Longshore Acts, they never allow cases regardless of how extreme the conduct and how deliberate the injuries inflicted on workers to proceed.
More about those involved
One of the lead class plaintiffs, Daniel Brink, before he lost his legs in an IED explosion in Iraq working for DynCorp on December 22, 2005.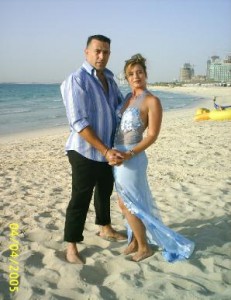 The last six years have been a living hell for him as he has been repeatedy denied medical treatment by CNA Insurance and DynCorp, given the run around and had $200,000 of medical bills unpaid, resulting in lost home, furniture, cars, and family.  He even had his wheelchair repossessed due to CNA's nonpayment after authorizing his wheelchair.  He was without a wheelchair for a year.  This is just one example of the torment contractors working in Iraq have suffered.
Approximately 130,000 contractors support the 150,000 troops in Iraq and Afghanistan, 30,000 are American.  This so called "contingency contracting" is designed to provide tactical and other support to troops in harms' way.  If one adds in State Department and US AID contractors, the number swells to over 180,000
Since the Iraq and Afghanistan campaigns began, there have been over 50,000 injuries, many permanent and disabling, and over 2,500 deaths of contractors
Many of the contractors are former military, many of the private security detail contractors are very recent military who perform many of the functions of U.S. Soldiers
Others gather unexploded ordinance, provide additional security or support for military security of base, and perform a myriad of support functions such as transportation, fire fighting, and so on
Contractors working for Blackwater, KBR/Halliburton, DynCorp, and many other security companies have been involved in multiple assaults, roadside bombs, small arms attacks, terrorist attacks
As a result of some of the contractor injuries, many have sustained traumatic brain injuries and psychological injuries that go untreated.  Some have committed suicide, others have lost homes, property and their families have split up under the stress of the insurance companies not paying for medical bills or disability checks called for under the law
The Defense Base Act requires contractors to maintain insurance and provide medical benefits, and disability benefits to injured workers in Iraq or Afghanistan or on a base where the contractor has work under a contract with the U.S.
The law requires this coverage, but many of the contractor are not receiving their benefits, medical and otherwise, conditions are being untreated, and some are simply left for dead when they try to access the benefits required under the law
Some attention has been drawn to the plight of both military and contractors who have been untreated for TBI and Post Traumatic Stress Disorder, PTSD, as well as going without benefits because the insurance companies simply like to delay or deliberately refuse to pay for medical care or disability
Congress held hearings early last year on the plight of the injured contractors and the improper behavior of the insurance companies and the contracting companies in denying benefits to Americans working in Iraq and Afghanistan in support of the war effort
Articles that reflect some of this can be found at http://www.americancontractorsiniraq.org/
For more information on the plight of other individuals and their families from the mistreatment of companies, see these websites: http://www.americancontractorsiniraq.org/ and
http://americancontractorsiniraqandafghanistan.com/SACII.html and www.southafricancontractorsiniraq.com
If you are wanting help with problems relating to your own DBA case, fill out this questionnaire.
Filling out the questionnaire does not establish an attorney-client relationship.  Nothing herein is intended to provide legal advice.  Only if a person becomes a client of the law firm by signing a fee agreement will such a relationship be established.  Prior results do not guarantee future outcomes. Case results vary dramatically depending on specific facts and circumstances.  Examples of results in cases above do not guarantee any specific results in any other case.
DBA Class Action Questionnaire