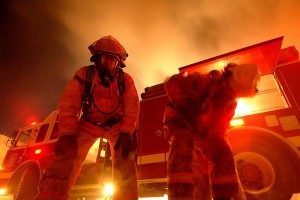 The Law Offices of Scott J. Bloch, PA, filed a lawsuit on behalf of two dozen firefighters who worked for Wackenhut Services International (WSI) in Iraq from 2005 to the present, seeking $100 million in back pay for the firefighters and thousands similarly situated.  They worked under a subcontract of WSI with KBR/Halliburton, under LOGCAP contracts to provide 24/7 firefighting and paramedic services on bases.  KBR and WSI conspired, according to the Complaint filed on December 6, 2011 by Washington D.C. lawyers Scott J. Bloch and Michael J. Trevelline, to deny pay for overtime, on call time, and higher graded work, to thousands of firefighters over the last five years.
Read coverage of the law suit Firefighters say stiffed in Iraq Courthouse News Service and Firefighters Sue Halliburton, Others For Iraq OT Pay – Law360.
Read the press release on the case PRESS RELEASE Complaint WSI firefighter Class.
Read the Hill et al v WSI et al Complaint District of Columbia live database as filed here.